Our bargain worktops are premium quality and our in-house delivery service makes it easy to get your worktops delivered at a time to suit you.
Worktops Made Easy
today
Choose Your Delivery Date
We can deliver worktops on any exact date to suit your requirements.
local_shipping
Next Day Delivery
We hold all of our worktops in stock, meaning we're able to deliver standard worktops ordered before 12 noon the next day, to the vast majority of UK postcodes.
supervisor_account
In-house Delivery Service
Our team of drivers will take care of the heavy lifting for you and offload your goods into a clearly accessible ground floor room of your choosing.
We can deliver on Saturdays to many UK postcodes for an additional charge.
KITCHEN SURPLUS IN-HOUSE DELIVERY SERVICE
Next day delivery available to the vast majority of UK postcodes.
Weekdays:
From £25.00 for the first worktop + £15 each additional*
Charges capped at four worktops.
£15 surcharge per-order applies to Scotland.
Saturdays:
£40 for the first worktop + £15 each additional*
Charges capped at four worktops.
Two Kitchen Surplus® staff will offload the goods to a ground floor room of your property, provided clear access is possible from a ground floor entry point.
---
You will receive:
done
Your delivery between 7:30am and 6pm on weekdays and 7am and 3pm on Saturdays.
done
A 2-hour delivery timeslot by email before delivery.
done
A courtesy call from your delivery team 30 minutes before their arrival.
---
Delivery prices are for our 2Man delivery service which covers the vast majority of UK postcodes. A £15 surcharge applies for 2Man deliveries within Scotland and Highlands/Island orders will be delivered by a third-party courier. Delivery charges will be displayed at checkout.
* For orders containing 8 or more worktops please contact us for a delivery price quote.
Courier Service for Small/Medium Items
Upstands and Splashbacks:
£15 per order (free with any worktop delivery)
Installation and Maintenance Accessories - including Oil:
£4.95 per order (free with any worktop delivery)
Small Accessories - Including Router Cutters:
Free
For urgent orders where our in-house delivery service is not available, we offer an overnight courier service, allowing us to deliver next day to the majority of the UK Mainland.
Our in-house delivery service delivers to the vast majority of the UK (a £15 surcharge applies to Scotland), but does not cover Ireland, Northern Scotland or island locations.
Customers in these locations will have their orders delivered by a third party courier and surcharges may apply. Large volume orders will be delivered via a pallet service and where possible we advise a fork lift is available on site to offload the goods.
Delivery with Third Party Couriers
Third party couriers are a one-man service, so a suitably able person will need to be available at the premises to assist the driver with the offloading of your order. Standard worktops can weigh between 45 and 85kgs, so due care must be taken when offloading any goods.
Delivery is to the nearest ground floor access point of the building only. Please note, certain high-value items are not eligible for next-day delivery with this courier option. The one-man courier service option is clearly displayed, where applicable, when delivery charges are calculated at the online checkout.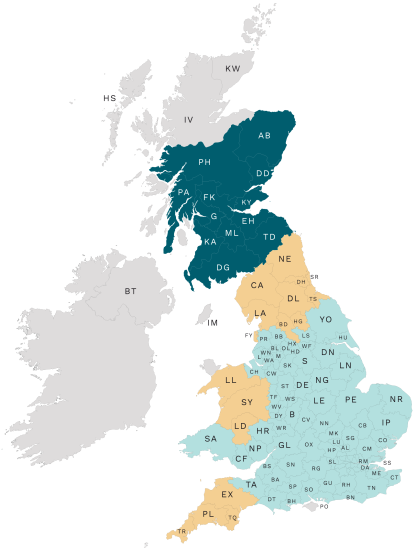 Monday to Saturday 2man delivery service available
Monday to Friday 2man delivery service available
Monday to Friday 2man delivery (£15 surcharge)
Third party delivery available only
Delivery of Small and Medium Items - Third Party
Deliveries outside of the Kitchen Surplus® delivery area will be delivered by a one-man courier service between 8am and 6pm.
For small and medium items such as jigs your goods will be delivered by a courier service that delivers between 7am and 6pm Monday - Saturday (dependent on the delivery option you choose), and will require a signature.
You could receive your order before 10:30am the next day with our quickest option, or there are a number of other weekday options as well as Saturday delivery services. Provide us with your telephone number and email address, and you'll get a notification of the delivery driver's name and your 1-hour time slot. The full list of delivery options for these items is displayed at the checkout.
If you would prefer to organise delivery with a member of staff, please call us on 0345 22 22 585 and select the option for delivery. We are also happy to store worktop orders for a certain amount of time to guarantee availability for a future date. We offer this service as we understand how stressful it can be to organise a kitchen installation.
Please note that although every effort will be made to ensure that delivery occurs during the estimated timeslot specified, due to unforeseen conditions - such as traffic - delivery can occasionally take place at a slightly different time from the slot specified.
It is essential that all worktops are checked upon receipt before they are signed for. If any of the packaging appears to be damaged or not intact, the goods must be signed for as "damaged" and a damage report should be filled out with the driver. If someone is signing for the goods on your behalf, please ensure that he/she is aware of and understands the terms of delivery. We need to be informed of any damage within 2 calendar days of receipt. Failure to comply with any of the above will result in a void claim. Due to the insurance liability, we cannot accept responsibility for any damaged items signed for as "clear", "unchecked" or in "good condition".